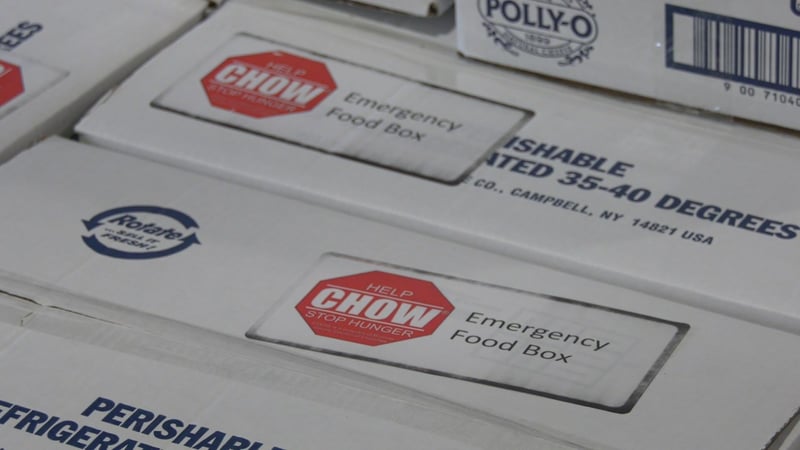 BINGHAMTON, N.Y. –
A Broome-Tioga BOCES IT worker was inspired to set up a GoFundMe for CHOW after a Maine-Endwell teacher voiced her concerns for her students during a meeting.
When computer programmer Karen Olivia heard that Social Studies teacher and CHOW volunteer Rachel Murat was worried about her students, she decided to take action.
"The question was asked is if there's anything you can do at school that you can't do at home and I started to cry and I said 'hug my kids,'" said Murat.
Murat said the school has been using the phrase 'If you're stuck at home, you're safe at home,' but knew it wasn't the case for some students, especially regarding food resources.
Olivia learned from CHOW director Michael Leahy that the need for food increased from 5,000 meals a day to 27,000.
"I put a chat out to my coworkers to ask if anyone wanted to start a GoFundMe which got several thumbs up," said Olivia.
This was last Thursday. Olivia's goal was to raise $500 for CHOW, but donations topped $4,000 in less than a week.
Each of those dollars will provide up to 5 meals.
"We're going to be able to feed quite a few people," said Olivia.
Murat says the funds help CHOW provide perishable goods that families may not be able to purchase on their own and helps get the supplies in order to get the boxes out.
CHOW is always in need of volunteers to fill boxes. To volunteer or donate, you can go to the CHOW webpage. Olivia's GoFundMe page can be found here.
You can call 211 if you are in need of food.
http://www.wicz.com/story/42070745/broometioga-boces-staff-member-raises-over-dollar4000-for-chow